The Memoirs of Pilots on Operation "Kaman 99", Among Others
A report on 273th Night of Reminiscence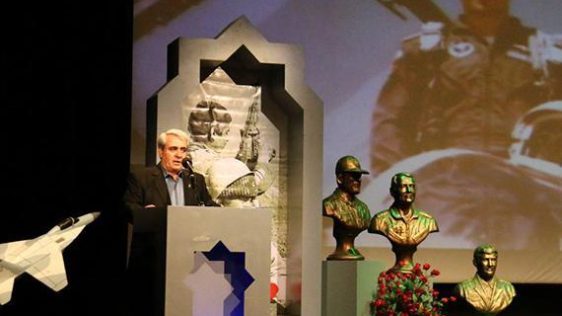 As the oral history site reported, two hundred and seventy third series programs of Night of Reminiscence was held at Art Center on Thursday evening on 6th Aban 1395 (on 27thOctober). In this ceremony, the pilot Muhammad Sadiq Ghaderi, Mustafa Nematollahi, and Mahmoud Zarabi spoke about their memoirs of air operation at first days of Iraqi imposed war against Iran.
Referring to the days before the war, the pilot Mohammad Sadiq Ghaderi, as a first speaker, said:" ninth month before the war, it was neat to the time of Morning Prayer while I had a bad dream that night.  I wake up suddenly. I dreamt for three times. Each night I dreamt that my air plane is falling and my dead body is falling on the ground by a parachute. By the time, the dream was changed and, in the sleep, I saw some people attended in a dark place. I was paralyzed completely, and unable to move.  In every dream, a tall man came and gives something to me. I dreamed these events every night to an extent that I was sure it would be happened to me."
He added: "After those dreams, some of the militants were removed (due to cooperate in criminal activities) and I was third person in this event; however, I've not involved in any kind of criminal activities. My wife was happy that this event caused my dream not to become a real event. After 4 months, I was able to come back to Air Force by trying and meeting with martyr Chamran. While I came back there, I dreamed again and again until I was involved again in the list of committed militants. 10 days before that war, as I found, the similarity among 10 pilots and I who were involved in criminal activity was that all of us were as excellent students in the course of piloting of Iran and America. When I met the Mr. Ridvan who was as an agent of Imam Khomeini, and Mr. Golchin the commander of military station, and I said them: " cleaning and removing the criminal militant is not proper and well in the beginning of the war. Then, I went. On 31th Shahrivar (21th September) and after this event, I went Karaj. I looked at the sky started and said myself: "these are Iraqi airplanes, the war is started" by the time, I turned radio on, and I found that I was right because the war alarm was going off on the radio. I stopped the car near to Azadi Square and I get my family off, and said them came back home, I wanted to return the military station; Therefore, I moved towards the military station of martyr Nozheh in Hamadan. When I arrived there, I said that I was ready to serve in the station, and I would leave there after the war."
Referring to operation Kaman, he said: "our first attack was on 1st Mehr 1359 in which more than 200 airplanes of Iran were flying, and they fired t a lot of targets but 140 airplanes entered in the zone of Iraq, and fired there. The operation was named Kaman 99. In those days, I spoke with one of my peers, martyr Khusravi Jafari, and we make a plan to use some airplane daily to determined target. We were sure that Saddam would come to force to finish the war in this way. But the plan was opposed."
A miracle on the days of captivity
The pilot Ghaderi added: "on third day of the war, it was informed by radio that four Iraqi airplanes were entered into Iran, and they were flying towards Kermanshah; so, I flied by an airplane and arrived there. I found an Iraqi fighter plane was ready to bomb. There was no way for me; I moved directly towards it. Finally the Iraqi planes were forced to bomb outside of the city and change their direction. One of the Iraqi planes crashed into a five floor apartment of Kermanshah military station. The second plane moved to Bisotun Mountain and fell down. One of the Iraqi pilots jumped down by a parachute, a Iranian forces capture him. Other two planes were pursed, and they went far from the city. The operation was finished successfully.
Referring to the story of captivity, he said: " on 8th Mehr 1359 (29th September 1980), I was in a air operation around 12 p.m., and I was there until 11 am, when I came back and found four airplane were going to go Baghdad. I agreed with them to fly there. We arrived on the sky of Baghdad around 1:19 p.m.  We had a duty to fired Aldoreh station and scatter the declaration of imam Khomeini, addressed to people of Iraq, and finally fired the electrical and sub-atomic station. To do second commission, we came to fore to reduce the height; that is why, we were placed in a wall of fire.  The plane's engines were fired, and I knew that if I left my plane, it would destroy the Iraqi houses and people around there. I tried to control the planes as much as possible. Then I jumped outsides of the plane. My left arm was cut by the high pressure of air. I was injured by 23 bullets. We, with other pilots, were carried to station by a van. First, the Iraqi forces carried us to hospital, and different parts of our bodies were dressed with plaster cast. My cat hand was joined together. Then we were taken to be interrogated. I showed myself unconscious to become free of danger. So, it was starting of captivity. Later, I found that the house, in which, as I supposed, common people were living there, and it might be fired, belonged to Iraqi Intelligence Service (al mukhaberat).
On his last speech, the pilot Bagheri spoke about a miracle in those days:  "in an investigation, while late Seyyed Ali Akbar Aboutorabi was investigating, the Iraqi forces broke my hand again and it was hung on my neck for six and half years. In the seventh year of captivity, they made a decision to cut my hand. One night before this event, the investigator came there for carrying me to Baghdad to torture. When I opened my eyes, I found myself in the shrine of Abulfazl Abas (PBHM). I said my silent prayer with him that I did not want my hand to be cut. Then I came back to Iraqi camp. A doctor who usually came to visit the camp every 15 days, said me in last night that I had a dream; therefore, I wanted to do surgery on your as much as possible. At 2:00 p.m., I was carried to Salleh al-din Takrib hospital. After one house, I went to operation room. The Red Cross was to come to visit my hand. 3 days, after finishing the surgery, they came there, and they encounter with a healthy hand."
The pilot Mustafa Nematollahi
Sending 6 thousand people in 8 hours
The pilot Mustafa Nematollahi, as another speech maker of 273th series program for Nights of reminiscence, told his memoirs: "I remembered that all of officials of Air Forces came together at first night of the war, and they were surveying on the movement of Iraqi forces to the cities. Next days, the condition got better by sending 140 Iranian airplanes towards Iraq. In those days, I was serving in the Air Transportation Post; I went to Omidiyeh to get ready for operation. It was a different situation in Omidiyeh  station due to hot weather  in Mordad 1360 ( July 1981)  while Mr. Banisadr escaped from Iran, I , as a colonel in the army, was sent to Tehran and determined as a commander of 1st Transportation station of Air Force."
Referring to the role of Air Transportation force in the sacred defense, he added: "we were responsible for Air Transportation. For an example, we met a dearth of forces in the operation Beit al-Moqaddas, one of the most famous operations. However, each airplane 747 was able to admit 300 to 400 people but we flied with a fourfold capacity towards frontage of the war. Therefore, we could send 6 thousands forces to frontage of the war. We sent all of injured to their cities."
We destroyed the Saddam's Air Force
The pilot Mahamud Zarbi, as a last speech makers told about his memoirs of first days of the war: "at first day of the war and first attack of Iraq on Iran, the Iranian airplanes flied towards Iraq from military station of Tabriz, Dezful, Bushehr, Tehran, and they did a vengeful operation. The Iranian airplane flied at a low height from earth to an extent that billboard of Basreh was hung on the pillion under airplanes of one of Bushehr forces, and the airplane came back with a billboard. 10 days after Operation Kaman 99, the power of Iranian Air Force reflected on the news media of Iraq.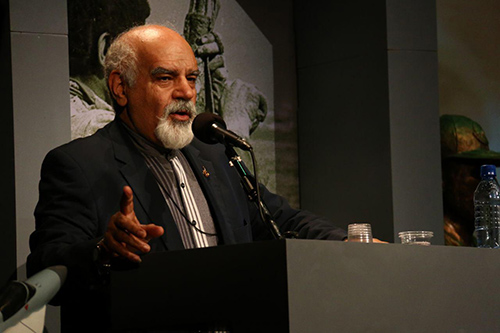 The pilot Mahamud Zarabi
Referring to the operation Morvarid on last part of speech, he added:" in those days, we cooperated in Operation Morvarid from Air Forces of Bushehr. Some people also attended in this operation such as Martyr Abas Duran, Hussein Khalatbari, Muftakhari, Mouhaghegi, Reza Saeidi, Reza Askari, and many other great men. We destroyed all Sea Forces of Iraq with 10 small military ship of Iraq during 2 week. "Two hundred and seventy third series programs of Night of Reminiscence were held by Cultural Studies and Literature of Resistance Center, and Literature and Art of Resistance Office on Thursday evening on 6thAban 1395 (on 27th October).