Rajai's memorable speech at the United Nations
Mr. Rajai's speech is one of the most memorable speeches by Iranian officials at the United Nations. The Iranian's then Prime Minister made a speech emphasizing Iraq's invasion to the country and introduced Iraqi regime as the one who started and imposed the war on Iranians.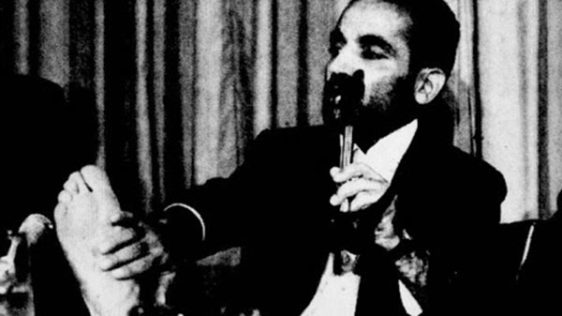 On the morning of 17 Oct 1980, Rajai delivered his speech to the UN Security Council directed by a president from the Soviet Union. Before that, Rajai had a one and half hour talk with Kurt Waldheim, the Secretary-General of the United Nations.
Rajai and his bare foot
Mohammad-Ali Rajai, the then Prime Minister of Iran traveled to New York to take part in a session hold by the UN security Council. It was the first presence of Iranian Authorities in the UN after the Revolution. Some people close to Rajai said later that at first Banisadr, who was Iran's president at that time, was supposed to set off for New York, but Imam Khomeini recommended that since the president was busy with war issues and commanding it, Rajai was a better choice to make a short visit to the UN and participate in its General Assembly.
Rajai presented his speech from the seat of Iran and not the podium and criticized the system governing the world and talked about the Civil War between the US and the Soviet Union. There has been a lot said on the sidelines of that session, but maybe the most interesting event was when Iran's president displayed the scars on his body, which were results of going under torture of Shah's regime, to the reporters. To add to it, his fiery speech is also remembered by many.
Iran's Prime Minster talked about brutal crimes of Baath regime in occupied regions and massacre of innocent civilians in villages and towns by bombs and missiles of Iraqi Army. He declared that Iran's Islamic nation is determined to defend their independence, freedom, revolution and territorial integrity. Rajai reminded the United Nation and the Security Council of their important responsibility to defend the oppressed and take action against the aggressor.
Rajai explained that Iraq's pre-planned invasion to the Islamic Republic is violation of human rights and talked about western countries' aid to Iraqi Baath regime. He added that there's no room for ceasefire when one is being crushed under feet of his enemy.
Rajai also mentioned world's important issues such as Palestine occupation by the racist Zionists, invasion of the Soviet Union's Red Army to Afghanistan and conspiracies of colonizers all around the world. It's worth to say that Rajai went to New York not to attend the United Nations General Assembly but to make a speech at the UN's Security Council.
Part of Iran's Prime Minister in United Nations Security Council is as follows:
"In the name of God, the most gracious the most merciful
'God Doesn't love the public utterance of harsh speech unless [it be] by one to whom injustice has been done'
We've come here when our country is being burned in the fire of war caused by Iraqi Baath regime and also while the earthquake in Algeria has made our Imam and nation utterly sad and we are sorry that because of this war, we haven't been able to help our brothers and Muslims enough.
Yesterday I came here straight from our war fronts. I saw people dead or injured, scenes which will shake every human's heart even a bit. Enemy's 9-meter long land missiles which attacked Dezful, has razed a great part of city. I saw that more than 30 infants were injured and hospitalized. Saddam Hussein's Army has invaded our soil with false excuses or better to say with no excuses at all. They destroy our economic and manufacturing centers, our residential areas among them hospitals and education centers and massacre our civilians.
The world must be aware that Saddam's army has no mercy and reminds every one of the memory of Hitler's invasion. Saddam has invaded us with 12 Divisions, more than 2500 tanks and hundreds of air fighters and plenty of other armaments just to remain a few days more on the seat of Iraq's government. He's invaded our nation which is struggling to rebuild the country after the revolution…"
After Rajai's speech, representatives from the United States requested to have a meeting with Iran's Prime Minister, but Rajai refused due to the US aggressive strategies and crimes all around the world.
Finally, 7 years later, Ayatollah Khamenei becomes Iran's first president after the Revolution to attend the UN's general Assembly. Khamenei, same as Rajai, compared Saddam to Hitler and asked them to "learn a lesson from Nuremberg trials and punish Iraq as an aggressor to stabilize the security in the region". The idea which was ignored by the world and the problem resurfaced again in Kuwait war.