Mothers of Patience
Documenting Saddam's Crimes against Iranians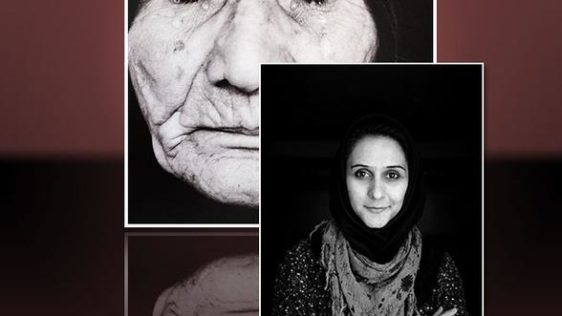 What happened and you decided to work on "Mothers of Patience"?
Fatemeh Behboudi: The launching of the "Mothers of Patience" was concomitant with interesting events. In the beginning, names such as "Anonymous Mothers" were suggested, however, the name "Mothers of Patience" was suggested after conducting discussions with masters such as Mr. Mir Hashemi.
In 2007, I started my work by taking photographs of anonymous martyrs' funerals. Every year I attended several of these funerals; questions started to build up in my head. All of these events helped in the evolvement of my perspective and I decided to investigate more about these families.
I always wondered if something such as "Eternal Love" exists among human beings. Until 2013, with the blessings of God, I was elected as one of the world's twelve elite photographers under the age 30.
Master Class is an intensive course for professional photographers. In order to be able to enroll the course I should have done a professional project in my country, this gave me a lot of motivation to take the project of "Mothers of Patience" more seriously.
Probably due to the political orientations of World Press Photo, till that time good projects have not been presented from Iran. I longed to present a different story from Iran; a story that no one in the world knows anything about it. This project was launched in 2013. After my visit to the Netherlands, I received good feedbacks. An American photographer named Maggie Steber, a prominent war and National Geographic photographer who has also witnessed the Rwandan genocide, encouraged me to continue this story; she was my motivator in the rest of this project.
In 2014, this project was ranked first by POYI of America. In this year, I was chosen among Asia's top five photographers and I was qualified to participate inMalaysia's OBSCURA 2014 exhibition.
There I received good feedbacks from people worldwide. I even saw Americans who were crying.
"Mothers of Patience" are suffering every day. This act of illustrating their feelings was effective.
The moments of 30 years of waiting, and the reflection of those mothers' sensations had a big impact. An American said on behalf of the American nation: I do apologize to the people of Iran for the policies of my government.
Art was able to speak out, and instead of crying "Down with the USA" I tried to make my pictures reach out to the audience.
Even an Israeli emailed me saying that he/she feels shy to speak to me but seeing my pictures made him/her feel ashamed.
The fact is that we were able to reveal Iran's true face. I believe that the reason behind this project's success are the "Anonymous Martyrs" themselves. I even won the Oscar of World Press Photo in 2015.
Taking into consideration the artistic capabilities you possess, wasn't it better if you have taken another route?
Each one has his own route. I try to be a photographer committed toward his nation. I could work on western-admired themes. But I went for deep themes.
Despite the passage of 30 years since the Iraqi-Iranian war, we still witness its effects on the society and "Mothers of Patience" are a corroboration for that. There was a series of questions in the society which I found to be my responsibility as an artist to answer, taking into consideration the society's requirements.
Overall I am satisfied by the route that I have chosen.
How do you picture the future for "Mothers of Patience" project?
I am intending to travel to every corner of Iran, as well as am planning to hold a big exhibition in Iran and overseas.
I will publish a book in this regard too; a lot of the world's prominent photographers told me that they are waiting for the publication of my book.
I hope that I finish this project within the next two years.
This project is a humanitarian project, with international perspective. To illustrate the complications it carries for mothers whenever a war takes place.
Did you face anything interesting whilst working on this project?
I have met Martyr Sabori's mother long time ago. Once she told me that she wishes if she could see a phalanx of her son's finger for one time and after that she is ready to die.
I always had this mother on my mind.
Until one night I dreamt that someone called me and told me that her son was identified.
When I got up in the morning I called the martyr's mother and told her that I dreamt that your son was identified; three months later her son's corps was found.
Before this I did not even think about such things. However, after this event I started to realize that martyrs are actually alive. I started believing that there exist certain facts that we can't realize with our minds.
I did build a mysterious connection with Shalamcha. Another memory is about meeting with the mother of one of the martyrs in Shalamcha. She used to travel every year from the northern part of Iran to Shalamcha which is located in South Western part of Iran. She came to Shalamcha to beg her son to come back home. I told her to go and give a DNA test and her son will be identified. After doing the test her son was identified.
With a simple suggestion, I was the reason that she found her son after 31 years. She died five months later.
Another mother from the villages of Ilam, the way she expressed her feelings when her son came back was very interesting for me.
What is your opinion about the Martyrs' Cemeteries (Golzar Shohada)?
Part of my work's beginning was taking photos of martyrs' cemeteries. These cemeteries are heavens were martyr's families, unlike anonymous martyrs, live there. Martyrs' cemeteries of Iran are unique in the world. The most important things flowing in Martyrs' cemeteries, are sensations and life.
Unlike Martyrs' cemeteries in Iran, the cemeteries in the U.S. only show a date of birth and a date of death.
In the Martyrs' cemeteries of Tehran you observe incredible things. I used to visit the Martyrs' cemeteries of Tehran on weekly basis. I used to see marriages, charities, Night of Qadr ceremonies and etc.
When I took foreigners there, they were completely impressed and they considered it a holy place.
You can see the families' various outlooks toward life.
You don't feel as if it is a cemetery; everything is lively.
Many of my foreign friends would like to visit there in the first place.
Each grave of a martyr relays a different feeling and story, which should be preserved for future years.
Martyrs' Cemetery of Tehran represents the history of Iran and the Islamic Revolution.
In those tombs, you observe various pictures of martyrs. You see the letter of a 24 years old Martyr which he has written to his grandfather. The statue of bride and groom who were martyred by rocket shelling… this is the Iranian spirit.. It is distinguishable from other cultures. This is our treasure, and we must preserve it.
I am intending to complete this project.
What are your other projects that you are planning for?
I am planning for a project about Khoramshahr. I also want to start a story about the martyrs of chemical weapons. The Chemical weapons that the Germans handled to Saddam Hussein and the crimes they committed against the Iranian nation and the Iraqi Kurds.
Through these projects that I work about the effects of war, I try to tell the future generations and the different nations to try to stop wars similar to Saddam's war on Iran which he launched 30 years ago.
People all over the world must understand that not just their welfare is important. As Mrs. Maggie once said about the Syrian issue: I am sorry that the American people do not realize the fact that if Western Asia (Middle East) is damaged, all of the world will be damaged.
I hope I would be able to continue the project of wars' negative effects.